Zizzi Rustica Piccante Pizza Recipe
FEEDS 2 (or 1 hungry person)
Get spicy with 'nduja sausage, pepperoni, spianata piccante salami and spicy roquito chillies, with mushrooms, mozzarella, rocket and mascarpone to top it off. Here we have our spicy pizza that is a Zizzi customer favourite in our restaurants and in our home ranges too!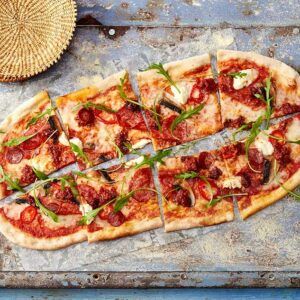 For the dough
125g Flour
3g Salt
2g Yeast
75ml water
Semolina
For the base
60g pizza sauce
170g mozzarella
1tsp dry chilli
Roquito chilli slices
10 Pepperoni
1 Field Mushroom
Spicy Nduja sausage
Spianata Salami
2 tbsp mascarpone
1tbsp  Belazu Rose Harissa Paste
Rocket leaves (to decorate)
If you are making your own dough, add all dry ingredients to a large bowl (being careful to seperate the salt from the yeast)
Add the water and bring together into a ball. This shouldn't be too dry or sticky so add water or flour to bring back the right consistancy.
Rest the dough in somewhere warm until it is doubled in size.
Dust the surface you are using to roll out with a handful of flour
Take the dough and roll out into a smooth ball
Dust the surface with semolina (this gives THE crispiest base!)
Add your pizza sauce and toppings
Cook for  10 to 12 mins at the highest temperature you can and enjoy!